Product introduction
Complete Package
Manual Down
Single Door Magnetic Lock 600LBS L280B with Time Delay & Signal Feedback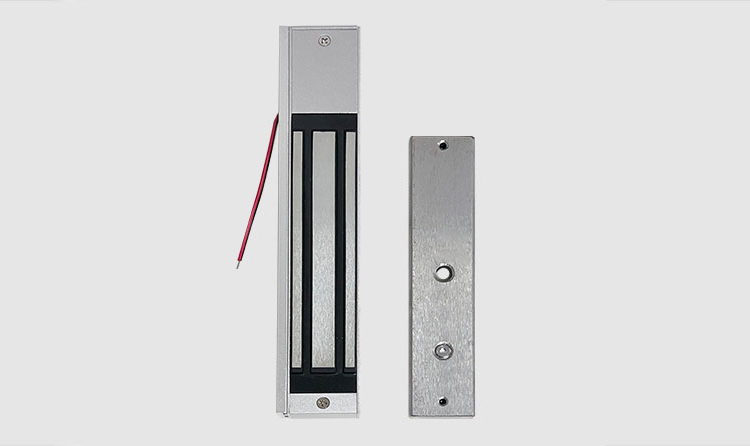 Product Specification
| | |
| --- | --- |
| Model | L280B, L280B-5 (With signal feedback), L280B-ST (With Signal feedback and Time Delay) |
| Lock size | 250L*48W*29H(mm) |
| Armature plate | 190Lx45Wx11H(mm) |
| Holding force | 280kg(600Lbs) |
| Voltage | DC 12V or 24V (Ajustable) |
| Current draw | 12V/500mA 24V/250mA |
| Suitable for | Wooden door, glass door ,metal door,and fire door |
| Operating temp | ≤20°C |
| Surface temp | -10℃ ~ 55℃ (14°F~131°F) |
| Suitable humidity | 0~90% (non-condensing) |
| Finishes for shell | Anodized aluminum surface texture processing |
| Finishes for magnetic | Zinc |
| Finishes for armature | Zinc |
| Product Weight | 1.84kg |
| Standard packing | 12pcs/CTN, 23kgs/CTN, carton dimension:40*15*30cm |
Feature:main material imported,quality is stable and relible
Fitting public security,lock without electric,easy escape
Fitting environment requirement,is different with common lock,and no voice
After outage without magnetization
Low consumption
Anti-corrosion,lock body deal with special anti-rust
Product Dimension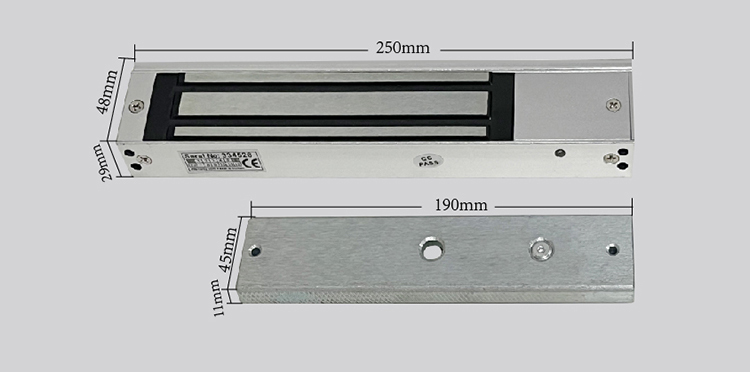 Complete Package
Installation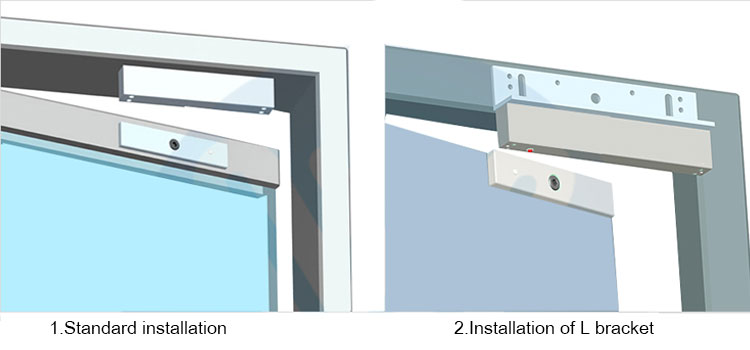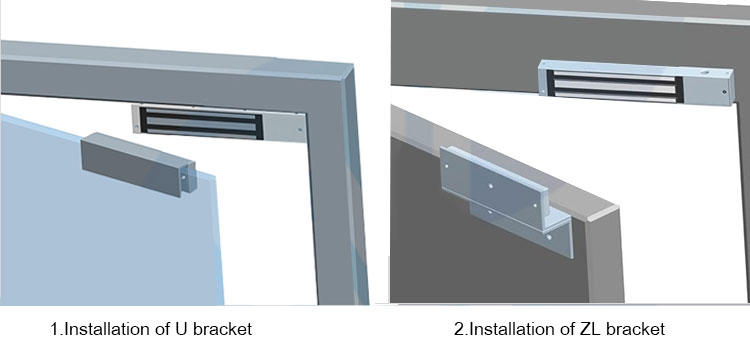 FAQ
1) What's working principle of electromagnetic lock?
The design of the electromagnetic lock (or magnetic lock) is the same as that of the electromagnet, which uses the principle of electromagnetism. When the current passes through the silicon steel sheet, the electromagnetic lock will generate a strong suction force and tightly absorb the adsorption iron plate to achieve the effect of locking the door.

2) Comparison between opening the door when the power is off and closing the door when the power is off
Generally speaking, it is suitable for various environments. "Power off and unlock": applicable to fire protection regulations. Most of the fires are caused by electric wires igniting. Many people died in the sea of fire because the door lock could not be opened to escape. The advantage of opening the door when the power is cut off is that once the wires go out and cause a power outage, the smoke-proof door of the passage will move to prevent the spread of smoke, and people can easily open the door. escape.

3) Power off to open the door (power on to lock) (Fail-Safe)
When the door is normally closed, the lock body is continuously energized, and the lock appears to be in the "locked" state. When the lock is powered off through an external control system (for example: card reader, card reader), the internal body will start to move, and Complete the state of "opening the door", such as magnetic locks, electric mortise locks that can be unlocked when the power is off.